There is nothing like you need a gym to get rid of your weight. You can definitely lose weight within a home or a few backyard exercises. Even if you are a gym going person these exercises would work the same. All that matter is a workout which you can perform anywhere without any responsibilities on your head. Check these best exercises to lose weight without going to the gym.
1. Planks
This is one of my favourite and effective exercises to lose weight. Trust me the position looks easy to do but when you try for 30sec you are going to feel the power of the plank. It's not like that you need to do for 10 sec or 10 minutes. All you need is start your set and push yourself as much as seconds you can take up to. The more seconds you try the best result you get.
2. Pull-Ups
Pull-ups is the exercise which can helpful for the complete body. If you are a beginner then you might not able to do 1 pull-up and from which you shouldn't demotivate. When I tried it for the first time I faced the same problem. As it is one of the hardest and effective workouts for weight loss.
Photo by Victor Freitas from Pexels
3. Skipping
There are different ways to do skipping but if you are a beginner try to do the classic/simpler one. Skipping is one of the best cardio exercises which you can easily do anywhere. Even if you don't have a skipping rope you can just imagine you are holding one and do jumping.
4. Bicycle Crunches
We will get to the crunches later in this article but let's talk about the benefits of bicycle crunches first. I have seen beginner always try to do the bicycle crunches as fast as they can. However, which is really wrong you should not think about the pace rather you should concentrate on your position and limit your speed. Which is indeed going to give you the result you want.
Check this: Is Peanut Butter Good for Weight Loss – Peanut Butter Nutrition Facts
5. Dancing
Maybe boys would not agree with me unless they are a dancer. I'm not a dancer either and you don't need to be a dancer to lose weight. You can watch some Zumba class videos and try to do it yourself. If you are a professional or regular dancer then dancing would be the best option for you to lose weight.
6. Walking
I would suggest walking for the people who have some medical problems or an older person. If you want to maintain your weight then try to walk every day. And for the adults and more active person, I would recommend you to do 10K steps every day.
Photo by Noelle Otto from Pexels
7. Push-Ups
I believe this is the common exercise and its benefits known to everyone. But to get the full advantages of this you need to do that right. This is also the exercise going to fit for the complete body.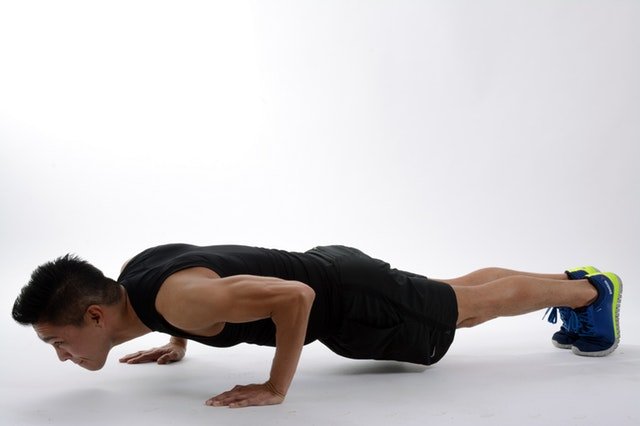 Photo by Keiji Yoshiki from Pexels
8. Jumping Jacks
Another exciting way to lose weight is by jumping jacks. Hit the music on and start doing. Jumping jacks are also the best exercises to lose weight and helps to warm you up.fast.
9. Sit-ups
This is another common but effective exercise which is mostly going to helpful for the abdominal muscle. You can easily do it anywhere you want. Beginners can ask for someone support or else you can do it by locking your foot somewhere safely.
Photo by Jonathan Borba from Pexels
10. Cycling
If you don't like to do exercise within the walls then you can prefer cycling. It will connect you socially more and you can enjoy the outing as well. Cycling is the best weight loss option for outgoing people.
11. Swimming
If you are a swimmer then trust me you hardly need any other exercise. As you can see the fitness of Olympic swimmers. I'm not assuming you need to get to that level but even if you do swimming for half an hour to 1 hour then that is more than enough.
Photo by Guduru Ajay bhargav from Pexels
12. Squats
Maybe it is the best workout for lower body muscle but you can add this to your exercise for weight loss. If you prefer not going to the gym then you must consider squats(best exercise for girls).
Photo by Oleg Magni from Pexels
13. Crunches
Sometimes beginners get confuse the crunches with the sit-ups but both are quite different. In sit-ups, you need to go all the way up whereas in crunches you don't. I will add up all the exercises in details soon, for now, you can check on YouTube for the crunches positions.
Here you can know: How to Lose Weight within a Perfect Plan
14. Leg Raises
This is another best exercises to lose weight and leg raises can be performed lying on a mat or sitting on a bench.
15. Running
Finally the evergreen and one of the best exercises to lose weight. Even though all the above exercises you do still I would recommend you to run 3 to 4 days a week. This is going to help your body warm-up and better blood circulation. The more your body absorbs oxygen the healthier you get.
Photo by Leandro Estock from Pexels
Important notes to remember: I have seen many people take rest for several minutes in between every exercise. Which would not be best for your weight loss program and If you want a better result then try to rest only for 30 sec to 1 min in every set.
I'm recommending all the above exercises on my own 5 years of experience and here you can check out my weight loss journey. If you have any suggestion or question to ask then do let me know in below comment section.
Featured Image Credit: by Nathan Cowley from Pexels